FREE Home Buyer Seminar
For More Information about the Home Buyers Seminar Call or Text Woodbridge VA Realtor®,
Claudia S. Nelson 571-446-0002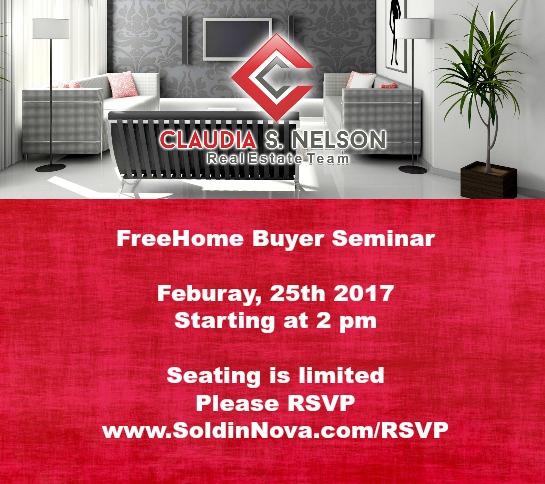 February 25.2017 @ 2 pm
Free Home Buyer Seminar Woodbridge VA
Free Home Buyer Seminar, Saturday, Feb 25 at 2 pm in Woodbridge, Virginia. Register today and you will be registered to win one of the door prizes and giveaways on Feb 25. Preliminary loan reviews and credit checks will be offered at the home buyer seminar. This free home buyer event for Prince William County and all of Northern Virginia is open to the public. If you have been thinking about purchasing a home, you should start right here. We will discuss the home buying process step by step and also review any available loan programs, including loan programs with zero down payment. Yes, there are loan programs out there that do not require a down payment and we will provide you with the best program that fits your situation. Refreshments will be provided.
What?
Home Buyer Seminar
The Home Buying Process
First-Time Home Buyers Programs
How to purchase a home with ZERO down payment
Loan Programs that offer money towards a down payment and closing cost
How to qualify for a loan
What type of loans are available to you
Step by step Home buying process
Preliminary Loan Approvals and credit checks will be offered during the event
When?
Saturday, February 25.2017 at 2 pm
The Home Buyer seminar will take place on February 25, 2017 and will begin at 2 pm. We will provide refreshments
Where?
Keller Williams Realty 4310 Prince William County Pkwy Suite 200, Woodbridge VA 22192
The Home Buyer Seminar will be held in the Keller Williams training room. There is plenty of parking available outside of the office. You can park in any of the visitor spots or parking spaced marked KW.
Who?
The Home Buyer Seminar is brought to you by:
571-446-0002
Keller Williams Realty4310 Prince William County Parkway Suite 200
Woodbridge VA 22192
Loan Officer NMLS# 186968703-580-5968
Caliber Home Loans
Settlement Agent703-772-5640
Virginia Title and Settlement
Home Warranty Representative703-398-2905
2-10 Home Buyers Warranty
How?
RSVP at www.SOLDinNoVA.com/RSVP/
SEATING IS LIMITED!
RSVP FOR A CHANCE TO WIN ONE OF THE DOOR PRIZES
FREE Home Buyer Seminar in Woodbridge VAprovided by
#ClaudiaSNelsonRealEstateTeam
571-446-0002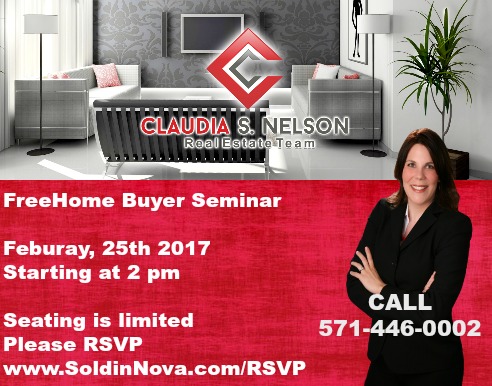 For More Information contact The Claudia S. Nelson Real Estate Team #ClaudiaSNelsonRealEstateTeam
Email: Claudia@VARealEstateExperts.com
Call or Text: 571-446-0002
Find Homes for Sale in Woodbridge:
[idx-platinum-widget id="20107-5721″ ]